Joe Biden and other Speakers announced for Democratic National Convention in Milwaukee.
Senator Cory Booker, one of the speakers at DNC in Milwaukee.
Photo Julia Mineeva/Thenews2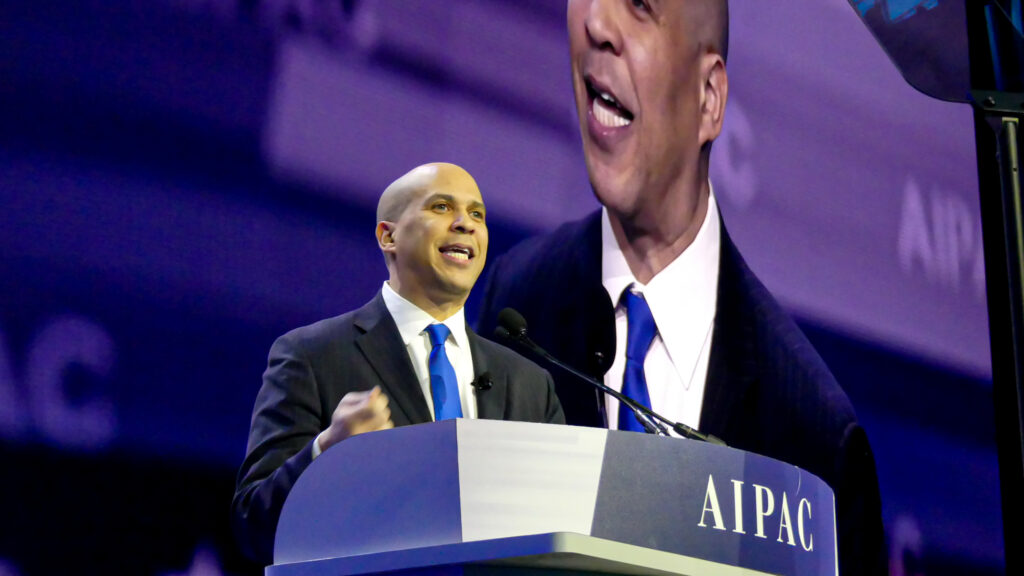 The Democratic National Convention Committee (DNCC) has announced this Tuesday (11), the names of some important people to speak during their virtual convention scheduled for August 17th through the 20th, from 9am to 11pm. These selected speakers will be as a coalition uniting behind Joe Biden's vision for a better America continues to grow, focusing on the convention's theme "Uniting America."
The Democratic National Convention is the formal event in which delegates of the Party choose the party's nominees for President and Vice President in the 2020 election. In addition, the Party also adopts the official Democratic Party platform as well as the rules and procedures governing party activities, which includes the nomination process for presidential candidates in the next election cycle.
The speakers' line up would be as follows,
Monday: We the People
Featuring Senator Bernie Sanders, Senator Catherine Cortez Masto, Governor Andrew Cuomo, Governor Gretchen Whitmer, Representative Jim Clyburn, Convention Chairman Representative Bennie Thompson, Representative Gwen Moore, Former Governor John Kasich, Senator Doug Jones, Senator Amy Klobuchar, and Former First Lady Michelle Obama.
The speakers will concentrate on series of monumental challenges in the country; Covid-19, laid off workers, racial injustice.
Tuesday: Leadership Matters
Featuring Former Acting US Attorney General Sally Yates, Minority Leader Chuck Schumer, Former Secretary of State John Kerry, Representative Alexandria Ocasio-Cortez, Representative Lisa Blunt Rochester, Former President Bill Clinton, and Former Second Lady Dr. Jill Biden.
Focus will be on Leadership, which means rising to meet the nation's challenges, not making them worse. Putting the country ahead of oneself, focus on the leaders and the experts, the veterans and the activists, all those who seek to unite and not divide. It's about making sure the government—the military, the judiciary, the scientists, everyone—is working in the national interest, not a president's political interests. It will also include a Roll Call Across America, which will take viewers to all 57 states and territories. They will hear from voters, delegates, parents, teachers, small business owners, activists and leaders in the Democratic Party as they officially cast votes to nominate Joe Biden to become the next president of the United States of America.
Wednesday: A More Perfect Union
Featuring Speaker Nancy Pelosi, Former Secretary of State Hillary Clinton, Senator Elizabeth Warren, Governor Tony Evers, Governor Michelle Lujan Grisham, Former Congresswoman Gabrielle Giffords, the Vice Presidential Nominee, and Former President Barack Obama.
Focus will be on America not going back to where it was before Donald Trump's mismanagement of the pandemic and subsequent economic crisis, because for too many people, that wasn't good enough. As he leads us out of crisis, Joe Biden will help build back better. He will have a historic partner in these efforts: the first female vice president. On Wednesday, they will hear from the Vice Presidential nominee and many others who are committed to working alongside Joe Biden to achieve his goals to form a more perfect union.
Thursday: America's Promise
Featuring Senator Cory Booker, Governor Gavin Newsom, Mayor Keisha Lance Bottoms, Mayor Pete Buttigieg, Senator Tammy Baldwin, Senator Tammy Duckworth, Senator Chris Coons, Senator Kamala Harris, The Biden Family, and Vice President Joe Biden.
A former public defender, a leading senator, and two-term vice president, Joe Biden is one of the most experienced candidates to ever seek the office. Throughout his career, he has been tested by historic recessions, global conflicts, pandemics, divisive politics, and the never-ending quest for justice and fairness in America. Every step of the way, he has risen to the moment with steady and effective leadership. According to Joe, being president doesn't change who you are, it reveals who you are. He is a man of character and decency, and of empathy and compassion who believes in America's promise.
On the final night of the convention, they will hear from those who can speak to Joe Biden's leadership and character. Joe Biden will speak about his vision for uniting America to move us forward out of constant chaos and crisis, and for delivering on that promise for all.
The convention will be broadcast and the official live stream for the 2020 Democratic National Convention will be hosted on www.demconvention.com, where viewers can also find the full convention schedule, a digital toolkit to get involved, more resources for viewers, delegates and the media and additional plans and details.
By Niyi Fote /Thenews2