Protests for justice for George Ford turned into destructions and lootings in USA
A female protester arrested at Columbus circle in New York..
Photo Niyi Fote /Thenews2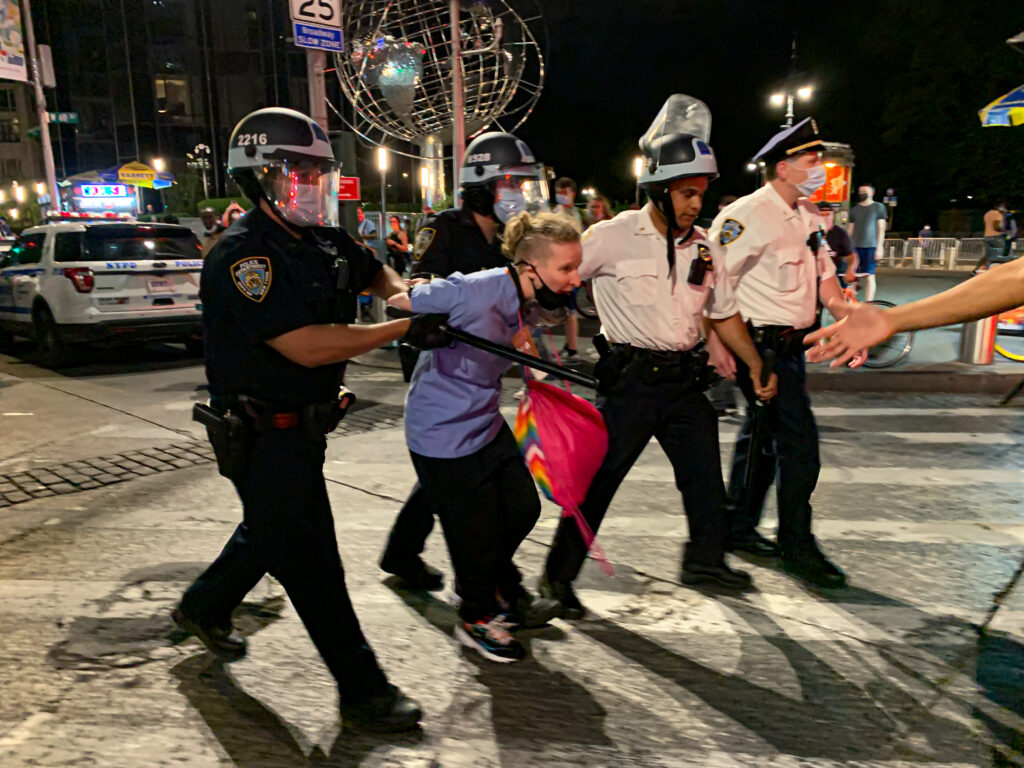 A 46 years old Black man, George Floyd, was murdered on Monday the 25th of May in Minneapolis for card fraud in a store and thus prompted protests right from that city and then spreading to other cities all over the USA.
As people demand for justice and the arrest of those four Police officers involved, they marched all over some major US cities protesting their anger and frustrations against the Police and then things got worse as protesters are seen destroying properties, burning Police cars, buildings and looting some stores .
Derek Chauvin, a White police officer was filmed with his knee on the neck of handcuffed George Floyd, who was on the ground screaming "I can't breathe ." Derek and other three police officers weren't paying attention to George's cry for help and when George was taken to the hospital, he was pronounced dead later on for being asphyxiated and that started these protests. Police officer Derek was charged with murder and arrested on 29th while nothing yet regarding the other three officers except for being fired as of the time of this article.
The situation even led some protesters to demonstrate right in front of the US White House in Washington DC, Trump Tower and Columbus circle in New York and other places like Los Angeles, Atlanta and so on, showing their hatred for the Police, frustrations with everything and demanding justice .
Some states introduced curfews prohibiting any movements from 8pm to 5.30am but none of these work as protesters continued their demonstrations demanding justice for George and equality for black. National guards were deployed to some states to help contain these protests but they got even worse and Police arrested some of them. There seems to be no end to these protests as of now . People are planning to continue and there is fear for escalation of Coronavirus pandemic as people agglomerate in large quantity during these protests .
By Niyi Fote /Thenews2