Interdicted Central Park's Trees
A man & a woman, with their dogs, watch as park workers interdict trees at Central Park this Saturday.
Photo Niyi Fote /Thenews2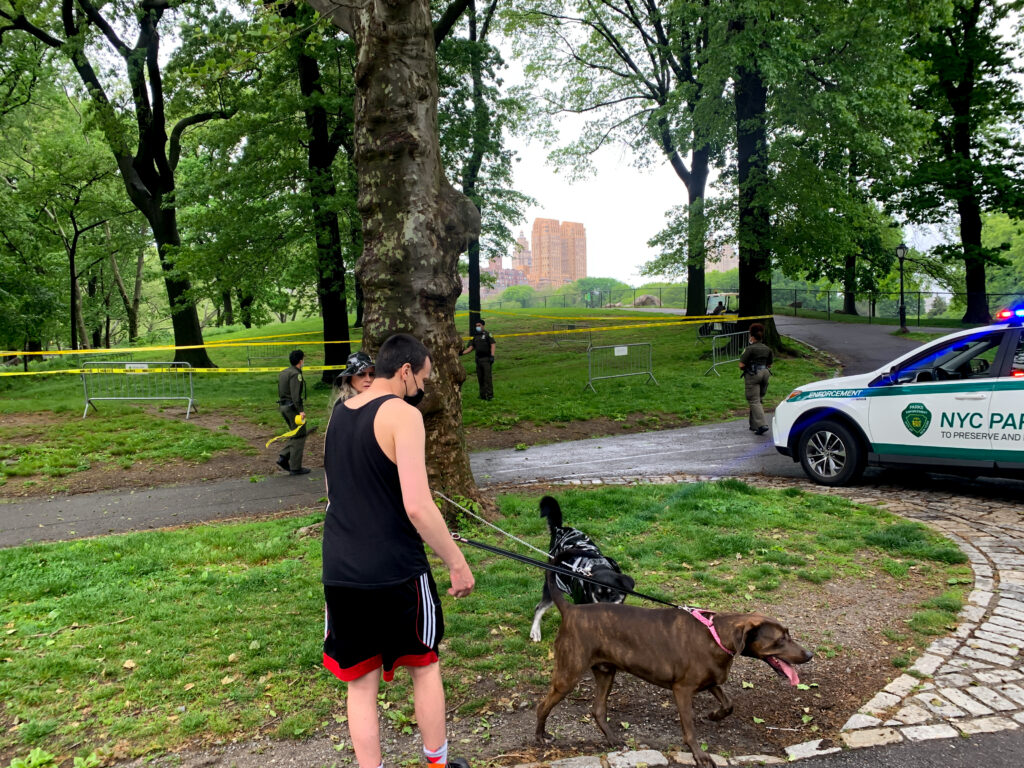 As New York city continues with the stay at home and isolation order so as to stop the spread of Coronavirus, people continue to flood Central Park to practice sports, pet walking even during recent rainfall of this Saturday.
And because of the rain, some trees at the park got very wet and one of them is about to fall and therefore got interdicted by the park's workers.
According to one of them, the tree is going to be cut tomorrow and not today because of shortage of workers responsible for that. The place is interdicted with yellow tape to warn and prevent park goers from any unannounced danger.

The numbers of people exercising and practicing sports at the Central Park is really alarming and continue to increase on a daily basis but with few people yesterday and today because of the rainfall.
The Governor of new York, Andrew Cuomo has extended the stay at home order (PAUSE) till May 28 except for essential services and he signed an executive order today allowing up to 10 people in any gathering all over the state starting during this Memorial Day weekend . The state has been able to reduce the curve and the number of deaths to Coronavirus continues to drop and according to the Governor during his briefing this Saturday May 23, 84 deaths have been recorded since Thursday; 62 in hospitals and 22 in nursing homes.
By Niyi Fote /Thenews2 .