Erikka turns stage into bar and makes a big show during DVD recording
Photo Leco Viana /Thenews2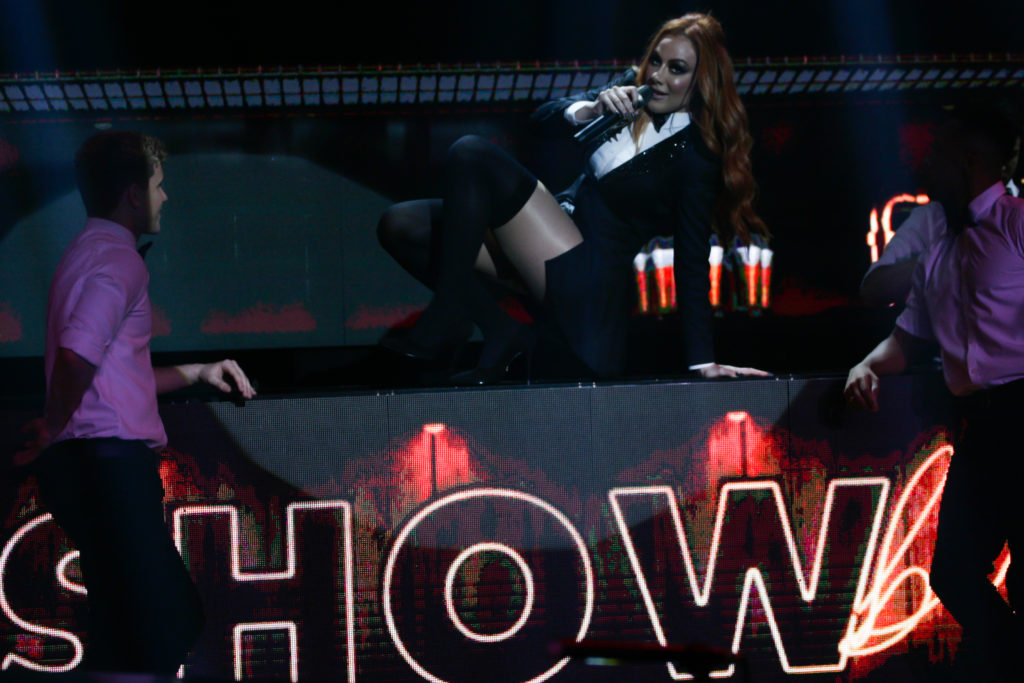 Impeccable, the singer changed clothes and had dancers to record her first DVD
Singer-songwriter Erikka recorded the first DVD of her career, "Show Bar." With a grand structure set up at Hangar Studios in São Paulo, the redhead began an important phase of her career and marks her return to the music market after the national explosion of the hit "Cara de Rica."
Photo Leco Viana/Thenews2
Under the direction of Tiago Silva, from TS Music, the singer presented a dance show with special choreography. In the scenario, the LED screens reproduced a brightly lit bar, and the center of the leaked stage allowed the redhead and her ballet to move from catwalk to catwalk and dance at the bar, where two bartenders made drinks. "Because I made you musical already, I brought some of this experience to the stage in this DVD recording," says Erikka.
Photo Leco Viana/Thenews2
With five changes of clothes, under the styling of Jessica Arnhold, the singer squandered style in more conceptual costumes highlighting the beautiful body in short bodies and shorts. In one of them,she came out with a beautiful white body with stones, also wearing a cape and hat to sing "Engenheira", one of the romantic songs that bears her signature.
Under the care of Kay Entertainment, businessmen Violeta Kay and Alexandre Muniz, the singer-songwriter opens with a much more country stage that comes from "Cara de Rica," but which, with the music production of Neto Schaefer, becomes more evident.
Photo Leco Viana/Thenews2
In the repertoire, eight songs with relationship themes, either romantic, casual or ending. They are: "Sentimento Cadê Você," "Alma Gêmea de Cachaça," "Referência " "Engenheira," "Não Presta, Não Presto," "Zero Defeitos," "Te Beijo Sem Dó" and "Iludida Diferente."
The launching of "Show Bar" is scheduled for this October
Thenews2