The Last Professional Fighters League of 2018 in New York
Philipe Lins (Brazil)
Photo Niyi Fote/Thenews2….
The much awaited Professional Fighters League took place at Hulu Theater -Madison Square Garden in New York on last day of 2018 with 7 world championships at stake.The theater was filled up with people shouting, screaming and even dancing to the beautiful and hypnotizing  music played by the DJ.It was really tempting not to give in to the music.The atmosphere was really thrilling and the best for $10million worth in fights prize.The first fight was between Abus Magomedov (Dusseldorf-Germany) and Louis Taylor (Chicago-USA).This was 185 middleweight category.The fight had barely started and Louis Taylor was able to knock out Abus Magomedov in about 33 seconds of the first round to win the first PFL title and thereby taking home $1million in prize. According to him "Regardless of the million dollars,I've been in this game for 11 years,I felt I owed it to myself to be a world champion .A big thank you to the PFL for all the love.Thanks for all the love PFL."
The second fight of the day was between Steven Siler (Utah-USA) and Lance Palmer (Las Vegas-USA) and by unanimous decision (50-45,50-45 and 49-46) Lance Palmer was able to win the PFL featherweight title taking home $1million championship prize…He said this after the fight "The plan was plain and simple,31 hard years of work paying off.I do this is for my family who means everything to me and for myself.We did this together and I'm so happy to be able to share this with all of them."
Next was  Natan Schulte ( Santa Catarina-Brazil) defeating Rashid Magomedov (Dagestan-Russia) by unanimous decision (48-46,48-46 and 48-46) thus winning the lightweight title.Natan took home the $1million prize. He said "This is the happiest moment of my life, no doubt.I fought the best this season and earned this championship.There are no words to describe this moment,I'm so happy!"
The only women fight was between Kayla Harrison (Ohio-USA) and Moriel Charneski (Texas-USA) of the 155 lightweight category.Kayla defeated Moriel by TKO (referee stoppage) at about 3.39 of the first round.This makes her to net 3-0 as a professional. She said this after her victory "Wrapping up 2018 with some beautiful judo throws was pretty cool and I got to use some ground and pound too.Now I'm 3-0 and I can't wait to fight in the 2019 PFL season."
Then, it was the 205 light heavyweight category between Brazilian Vinny Magalhaes from Rio de Janeiro and American Sean O'Connel from Utah.There was the crowd cheering in large quantity for Sean, really motivating him during the fight. Vinny had a good start but later gave in to Sean and perhaps with the help of the crowd,Sean was able to defeat Vinny by TKO ( corner stoppage) at about 5:00 of the third  round to win the PFL light heavyweight championship.Sean took home $1million as the prize and said after " I want to thank PFL for giving me a second chance.For everyone that believes in something, keep pushing,you can do it.It's all in your head.If I want to do it, you can."
For the heavyweight category, Philipe Lins (Rio Grande Sul-Brazil ) took on Josh Copeland ( Colorado-USA).This ended up through a TKO (referee stoppage) in favor of Philipe at about 33 seconds of the fourth round to win the PFL heavyweight title and $1million prize. "With the family I have and this accomplishment,I am the happiest man on earth.I still can't believe this has happened to me.I was so close to retiring before this opportunity.I am so happy." He said after the victory.
The last fight of the day was between Magomed Magomedkerimov (Dagestan-Russia) and Ray Cooper III (Hawaii-USA).Magomed defeated Ray by submission (guillotine choke) at 2.18 of the second round to win the PFL welterweight title.He won $1million for the victory.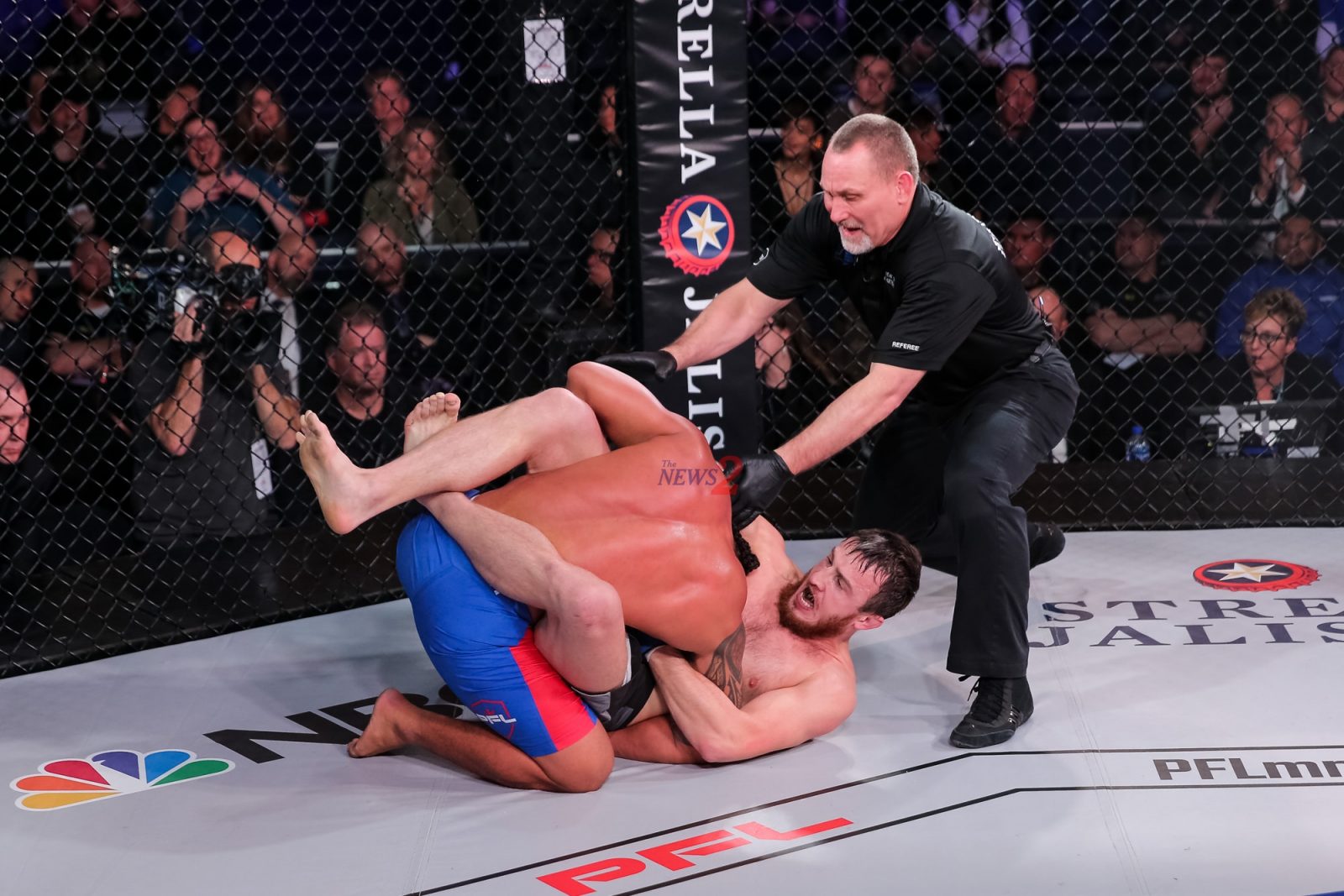 The seven fights were really thrilling.The spectators were pretty much involved in all the fights; sometimes mad every time they saw their fighters losing and sometimes happy when it's was the opposite.It was really worthwhile and some of the fans are anxious to see the 2019 PFL fights. What was really great about everything, apart from the fights, was that, the theater was full even though the weather wasn't favorable because of cold and rain.
By Niyi Fote
Photos Niyi Fote/Thenews2