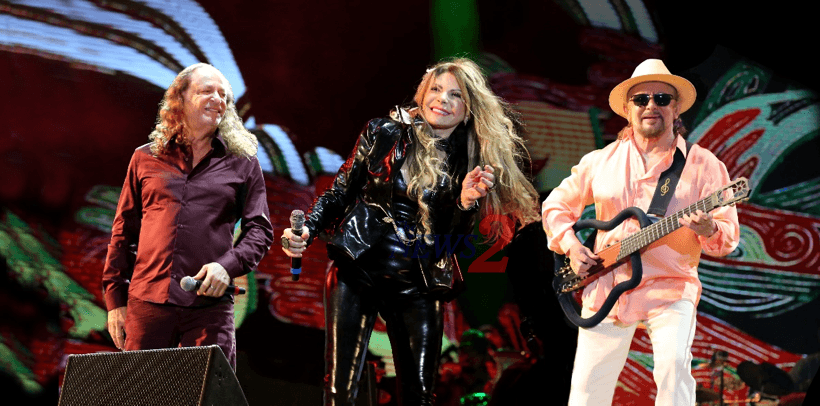 Photo-Publication
The Great encounter headed by Brazilian Elba Ramalho, Geraldo Azevedo and Alceu Valença, returns to São Paulo on November 25 for a show at Allianz Parque Hall, sponsored by Hinode and SegurPro and support from Prevent Senior .

Celebrating 20 years of career with the release of the album "The Great Encounter - 20 Years", the trio brings to the arena the northeastern culture translated into great songs, in rhythms that excite and make the public dance. Tickets have already started to be sold from the 26th of October at 4:00 pm on www.eventim.com.br/allianzparquehall and at the box office next to the A gate of Allianz Parque at Rua Palestra Itália, 214,Sao Paulo.

In 2016, Elba Ramalho, Geraldo Azevedo and Alceu Valença met with the aim of recording CD / DVD in commemoration of the 20 years of the launching of the project "O Grande Encontro" The Great Encounter. The new work came out of the oven and earned them a Gold Disc. Due to the success, the trio resumed the routine of making concerts together and in 2017, animated the traditional New Year's Eve of Copacabana Beach. They toured the main capitals of the country, played a historical show at Rock in Rio, and until then, they were on the road, even with a show in Portugal.

The Great Encounter presents new features in its current edition. If the original show had an acoustic format, with versions that recreated the mystique of the songbook with intimacy and delicacy, the new show incorporates an electric and percussive sound that lavishes energy without losing the tenderness.
Alceu, Elba and Geraldo sing alongside Marcos Arcanjo, Paulo Rafael (guitars), Ney Conceição (bass), Meninão (accordion), César Michiles (flute), Anjo Caldas (percussion) and Cássio Cunha (drums) direction of André Brasileiro.
In the repertoire, between trios, duets and solo moments, are classics that everyone wants to hear and sing like "Anunciação", "Banho de Cheiro", "Dia Branco", "Tropicana", "Moça Bonita", "Caravana", "Belle de Jour", "Canção da Despedida", "Coração Bobo", "Táxi Lunar", "Bicho de Sete Cabeças", among others.
Among the surprises, two vintage jewelry: "Papagaio do Futuro", presented by Alceu, Geraldo and Jackson do Pandeiro at the International Song Festival of 72, and "Me Dá um Beijo", a partnership of Alceu and Geraldo, , re-created with Elba on vocals. Zé Ramalho marks an authorial presence through "Chão de Giz" and "Frevo Mulher", in the voice of his companions.
Geraldo Azevedo celebrates: "Vinícius de Moraes said that 'life is the art of meeting, although there is so much mismatch for life'. There is always great love between the four of us. Elba and I have a beautiful project called An Unforgettable Encounter, which has now become this new Great Encounter. There is a very strong relationship that will always unite us. We are life partners."

Show Information:
Date: Sunday, November 25, 2018
Location: Allianz Park Hall
Address: Av. Francisco Matarazzo, 1705 - Água Branca, São Paulo - SP, 05001-200
Opening hours: 6pm (opening of the gates) / 8pm (start of the show)
Capacity: 7,225 people
Tickets: from R $ 60 to R $ 280 (see the full table)
Age rating: 16 years. Minors between 5 and 15 years of age, accompanied by legal guardian. * Subject to judicial change.
Disabled access
And for more information and follow up-
https://www.facebook.com/o.gnd.encontro/https://www.instagram.com/ograndeencontro.oficial/
By Niyi Fote
​